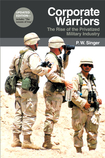 Corporate Warriors
The Rise of the Privatized Military Industry
(Cornell Studies,2003)
DESCRIPTION
In this book, Singer provides the first account of the military services industry and its broader implications. The privitization of warfare allows startling new capbilities and efficiencies in the ways that war is carried out. At the same time, however, Singer finds that the entrance of the profit motive onto the battlefield raises a series of troubling questions–for democracy, for ethics, for management, for human rights, and for national security.
AWARDS
Named Top Five Book of the Year in International Affairs by the Gelber Prize
Named Top Ten Summer Read by Businessweek
Winner of the 2004 Edward Said Book Award
Winner of the 2004 best policy book of the year by the American Political Science Association
REVIEWS
"P.W. Singer's Corporate Warriors is a comprehensive analysis of the political economy of the contemporary private military sector. Singer calls for an imaginative and intelligent real-world response to an important but increasingly complex and controversial phenomenon." – The Times Higher Education Supplement
"Corporate Warriors is a ground-breaking exploration of a vital issue shaping the environment in which today's military operates; it is well worth the investment." – Military Review
"This study is absolutely essential to an understanding of how militaries have changed in recent years, particularly in the US and in its Army…This book is recommended reading for anyone involve din the business of national defense." – Journal of Military History
"It should be required reading for military professionals and anyone else concerned about the unfolding of our American experiment in civilian control of the military and the state control of force." – Air and Space Power Journal
"A sweeping survey…" – The Atlantic Monthly
"P.W. Singer's Corporate Warriors, an analysis of the rise of privatized military companies, is one of those rare books that is even more timely now than it was when it was being written." – Bulletin of the Atomic Scientists
"Top Ten Summer Read….A thoughtful, engaging critique of the U.S. government's growing dependence on private companies to wage war." – Business Week
"Singer's subject couldn't be hotter, given the news that private firms have had a hand in running the Abu Ghraib prison in Baghdad." – Charlotte Observer
"The creeping military-industrial complex about which President Dwight Eisenhower warned us five decades ago has reached critical mass. . . .[I]lluminating." – Christian Science Monitor
"…Timely and insightful…There were times I felt like I was reading a Tom Clancy novel." – Contract Management
". . .[T]he first notable book on the subject." – The Financial Times
"[T]he most thorough analysis yet of this phenomenon…" – Foreign Affairs
"P. W. Singer's excellent . . . book on private military enterprises will set the standard for works on the phenomenon in the future." – International Affairs
"Seminal book on the subject." – Newhouse News Service
"A book that I cannot recommend too highly…" – New York Observer
"Prescient, cogent, and lavishly researched." – New York Review of Books
"Many fine volumes about U.S. foreign policy and world events have been published in recent months. This one is something special. Corporate Warriors might just be a paradigm shift. It may change the way people look at history and analyze current events…a must-read…" – Sunday Gazette