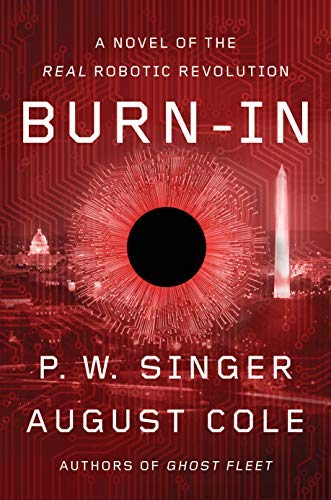 Burn-in
A Novel of the Real Robotic Revolution
(Houghton Mifflin Harcourt, May 26, 2020)
An FBI agent teams up with the first police robot to hunt a shadowy terrorist in this gripping technothriller—and fact-based tour of tomorrow—from the authors of Ghost Fleet
America is on the brink of a revolution. AI and robotics have realized science fiction's dreams, but have also taken millions of jobs and left many citizens fearful that the future is leaving them behind.
Order: Amazon | Barnes & Noble | Indie Bound | Local Bookshops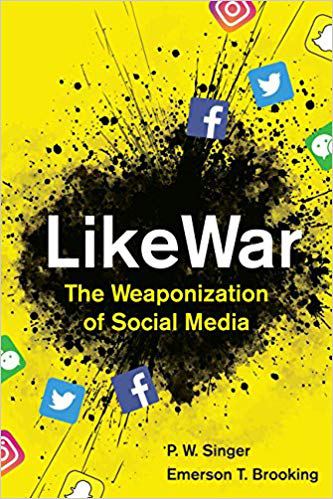 LikeWar
The Weaponization of Social Media
(Houghton Mifflin Harcourt, October 2018)

Two defense experts explore the collision of war, politics, and social media, where the most important battles are now only a click away.
Through the weaponization of social media, the internet is changing war and politics, just as war and politics are changing the internet. Terrorists livestream their attacks, "Twitter wars" produce real‑world casualties, and viral misinformation alters not just the result of battles, but the very fate of nations. The result is that war, tech, and politics have blurred into a new kind of battlespace that plays out on our smartphones.
P. W. Singer and Emerson Brooking tackle the mind‑bending questions that arise when war goes online and the online world goes to war. They explore how ISIS copies the Instagram tactics of Taylor Swift, a former World of Warcraft addict foils war crimes thousands of miles away, internet trolls shape elections, and China uses a smartphone app to police the thoughts of 1.4 billion citizens. What can be kept secret in a world of networks? Does social media expose the truth or bury it? And what role do ordinary people now play in international conflicts?
Delving into the web's darkest corners, we meet the unexpected warriors of social media, such as the rapper turned jihadist PR czar and the Russian hipsters who wage unceasing infowars against the West. Finally, looking to the crucial years ahead, LikeWar outlines a radical new paradigm for understanding and defending against the unprecedented threats of our networked world.
Click here for reviews and more information
Click here to buy the book
---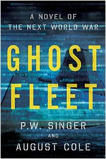 Ghost Fleet
A Novel of the Next World War
(Houghton Mifflin Harcourt, June 2015)

The United States, China, and Russia eye each other across a twenty-first century version of the Cold War, which suddenly heats up at sea, on land, in the air, in outer space, and in cyberspace. The fighting involves everything from stealthy robotic-drone strikes to old warships from the navy's "Ghost Fleet." Fighter pilots unleash a Pearl Harbor-style attack; American veterans become low-tech insurgents; teenage hackers battle in digital playgrounds; Silicon Valley billionaires mobilize for cyber-war; and a serial killer carries out her own vendetta. Ultimately, victory will depend on blending the lessons of the past with the weapons of the future.
Ghost Fleet is a page-turning speculative thriller in the spirit of The Hunt for Red October. The debut novel by two leading experts on the cutting edge of national security, it is unique in that every trend and technology featured in the novel – no matter how sci-fi it may seem – is real, or could be soon.
Click here for reviews and more information
Click here to buy the book
---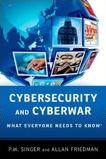 Cybersecurity and Cyberwar
What Everyone Needs to Know
(Oxford, 2014)

A generation ago, "cyberspace" was just a term from science fiction, used to describe the nascent network of computers linking a few university labs. Today, our entire modern way of life, from communication to commerce to conflict, fundamentally depends on the Internet. And the cybersecurity issues that result challenge literally everyone: politicians wrestling with everything from cybercrime to online freedom; generals protecting the nation from new forms of attack, while planning new cyberwars; business executives defending firms from once unimaginable threats, and looking to make money off of them; lawyers and ethicists building new frameworks for right and wrong. Most of all, cybersecurity issues affect us as individuals. We face new questions in everything from our rights and responsibilities as citizens of both the online and real world to simply how to protect ourselves and our families from a new type of danger. And yet, there is perhaps no issue that has grown so important, so quickly, and that touches so many, that remains so poorly understood.

Click here for reviews and more information
Click here to buy the book

---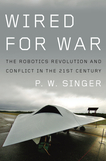 Wired for War
The Robotics Revolution and 21st Century Conflict
(Penguin, 2009)

What happens when science fiction becomes battlefield reality? A military expert reveals the coming high-tech revolution in warfare, examining its vast effects and warning of its historic and potentially deadly impact.

AWARDS
Named Non-Fiction Book of the Year by the Financial Times

Click here for reviews and more information
Click here to buy the book
---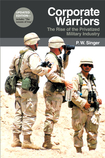 Corporate Warriors
The Rise of the Privatized Military Industry
(Cornell University Press, 2003)

DESCRIPTION
More than 20,000 private soldiers serve in Iraq, including at Fallujah and Abu Ghraib; from the Balkans to Central Asia, corporations now run the supply chain of US forces; an army for hire takes on rebel forces in West Africa, with diamond mines as the prize. In this book, P.W. Singer provides the first account of the military services industry and its broader implications, replete with case studies of such firms as Halliburton and Executive Outcomes. The privatization of warfare allows startling new capabilities and efficiencies in the ways that war is carried out. At the same time, however, the entrance of the profit motive onto the battlefield raises a series of troubling questions–for democracy, for ethics, for law, for human rights, and for national security.

AWARDS
Named Top Five Book of the Year in International Affairs by the Gelber Prize
Named Top Ten Summer Read by Businessweek
Winner of the 2004 Edward Said Book Award
Winner of the 2004 best policy book of the year by the American Political Science Association

REVIEWS
"Top Ten Summer Read….A thoughtful, engaging critique of the U.S. government's growing dependence on private companies to wage war." Business Week

"Prescient, cogent, and lavishly researched." New York Review of Books

"Many fine volumes about U.S. foreign policy and world events have been published in recent months. This one is something special. Corporate Warriors might just be a paradigm shift. It may change the way people look at history and analyze current events…a must-read…" Sunday Gazette

Click here for more reviews
Click here for a teaching guide
Purchase from Amazon
---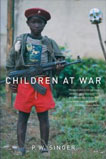 Children at War
(Pantheon, 2005)
DESCRIPTION
The first American serviceman killed by hostile first in Afghanistan was a Green Beret, shot by a fourteen-year-old boy; just a few weeks after, a Special Forces medic was killed by a grenade thrown by a fifteen-year-old al Qaeda recruit later imprisoned at Guantanamo Bay; suspected militants detained by U.S. forces in Iraq included more than one hundred children under the age of seventeen; hundreds taken hostage in Thailand were held captive by the rebel "God's Army," led by twelve-year-old twin brothers. These are but examples within the more than 300,000 cases of children presently at war around the world today.

Children at War is the first comprehensive book to examine the growing and global use of children as soldiers. P.W. Singer, an internationally recognized expert in twenty-first-century warfare, explores how a new strategy of war, utilized by armies and warlords alike, has targeted children, seeking to turn them into soldiers and terrorists. Weaving in quotes from the children themselves, he lays out the underlying causes of child soldiering, the methods by which children are recruited and trained for war, and the dark implications for global security. With a fuller understanding of how the doctrine emerged, he then provides the answers for how this terrible practice can be defeated.

AWARDS
2006 Robert F. Kennedy Jr. Memorial Book of the Year Award
Accompanying articles in USA Today, The Financial Times, Jane's Defense Weekly, Veteran's Vision, and Newhouse News Service; Featured on Book TV (C-span), Fresh Air (NPR), and Fox and Friends (Fox)
Accompanying TV documentary, "Children at War" (A&E/History Channel, 2006)

REVIEWS
"Fascinating…[A] heartfelt, valuable book …Singer has gathered his evidence masterfully." New York Post
"Why? [are there child soldiers?] In his landmark new book Children at War, P.W. Singer begins to provide some answers." Newsweek
"P.W. Singer's eye-opening book serves as a platform to reassess perceptions of modern warfare. In it, he expresses truths that most people would hesitate to mention…Overall, it's more than an interesting read –its an invaluable resource for the long term." The Washingtonian